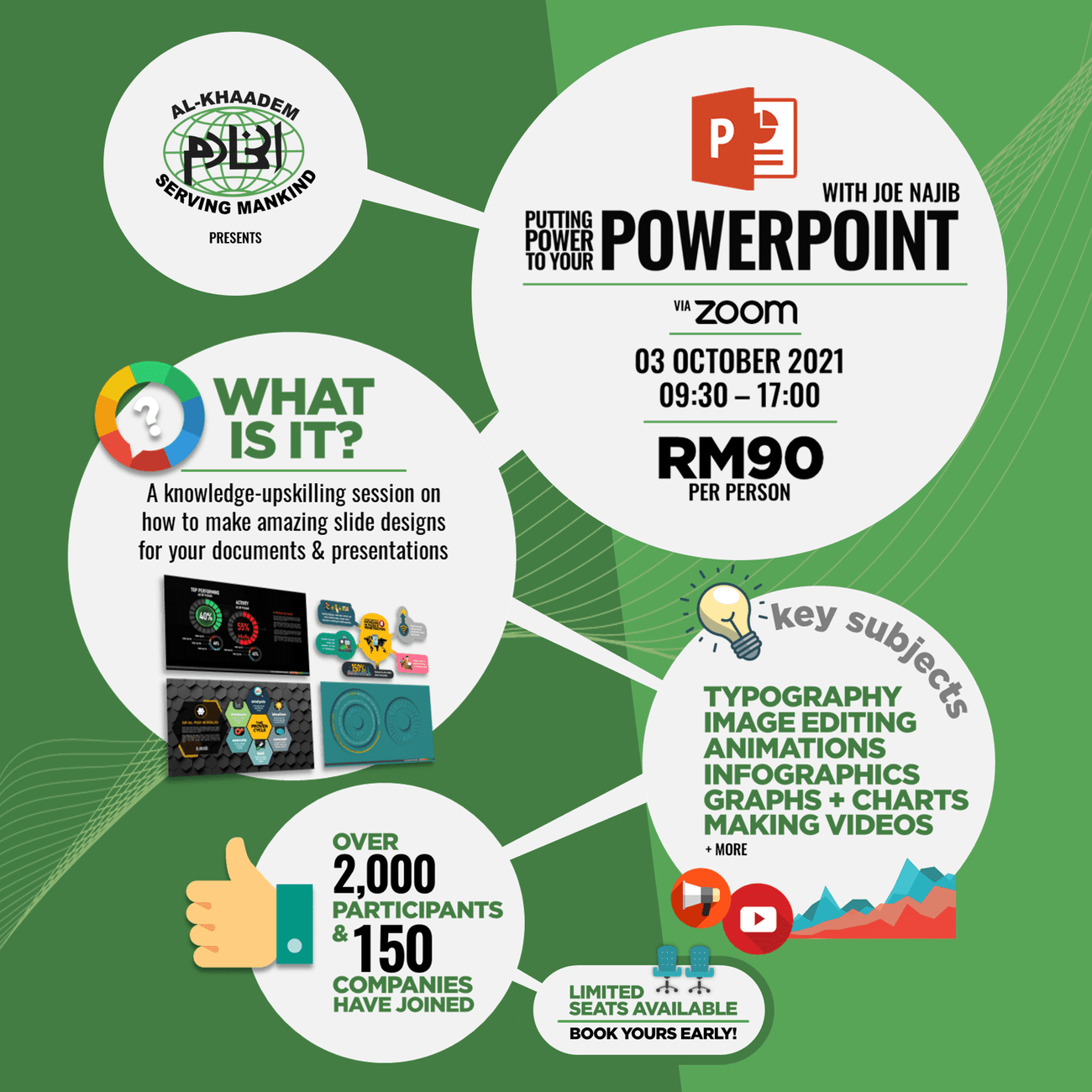 Putting Power To Your PowerPoint with Joe Najib
Joe Najib's 'Putting Power to Your PowerPoint' training gives its attendees a whole new perspective of what they can do with MS PowerPoint, one of the world's most used MS Office programs in the corporate & business world.
To produce powerful and effective presentation slides, one must realise that MS PowerPoint is, above all, a design tool that makes it easier to create presentations with.
The key formula is "creative manipulation" – on how to utilise PowerPoint's existing (and already familiar) functions by using conventional methods and thinking approach, resulting in slide layouts and designs that break the dry, traditional norm & expectations.
SOME OF THE BEST IDEAS ARE SO OBVIOUS, THEY'RE OVERLOOKED.
WHY SHOULD YOU JOIN THIS PROGRAM?
Presentation audiences have to use 500% more brain energy resource to consume information that are not optimally laid out on slides.
The way we design our content, slides, and presentations as a whole will have a cognitive and pyshoclogical impact on our audiences.
The methods and ideas shared in this training are based on design principals that optimise attention levels, which, in turn, can often result in positive and favourable outcomes
HIGHLIGHTS
       Most companies will have just one corporate presentation template used for all functions & purposes – proposals, reports, stakeholder briefings, inductions, public engagement, etc. Find out how to create different slide templates with optimised content formats to suit the right occasion & audience.
In the absence of images or visuals, a slide filled with plain text can be utterly bland and uninspiring. Learn how to manipulate the text functions and turn plain sentences into design elements.
Animating your presentation isn't just about making your slides look fancy. It helps you to lead the audience, and have a more compelling story-telling flow. The training highlights the basic fundamentals of animation as well as giving a few tips on how to break the conventional norm.
One of the strategies behind a good presentation is to present your content in an unconventional, hardly-seen-before format. The trainer will share various case studies and thinking methodologies on how to create better-looking slides for your timelines, strategies, process flows, etc.
Using PowerPoint's existing tools, you are able to create impactful infographic designs, without the need for Photoshop or Illustrator. The trainer will share the thought processes that need to be put in place, and various ideas on how to convert plain data into works of art.
COURSE OUTLINE
INTRODUCTION
SAMPLE WORKS
VERSIONS
SLIDE SETTING
SLIDE MASTER
GRIDS & OBJECTS
TYPEFACE
TYPOGRAPHY
BREAKING THE CONVENTIONAL
COLOURS
IMAGE EDITING
USE OF ANIMATED GIFS
SLIDE TRANSITION
HYPERLINKS
CONTENT ANIMATION
SAMPLE WORKS 2
INFOGRAPHICS
EXCEL INTEGRATION
GRAPH & CHART DESIGN
AUDIO-VIDEO EDITING
MAKING VIDEOS
EFFECTIVE CONTENT FLOW
SLIDE & PRESENTER SYNERGY
RECAP + Q&A
DATE: 3 October (Sunday)
LOCATION: Online (ZOOM)
TIME: 9:30 AM – 5:00 PM
FEES: RM90
INCLUSIVES OF:
– recording of the program
– coupon RM10 unit3.my
REGISTER NOW