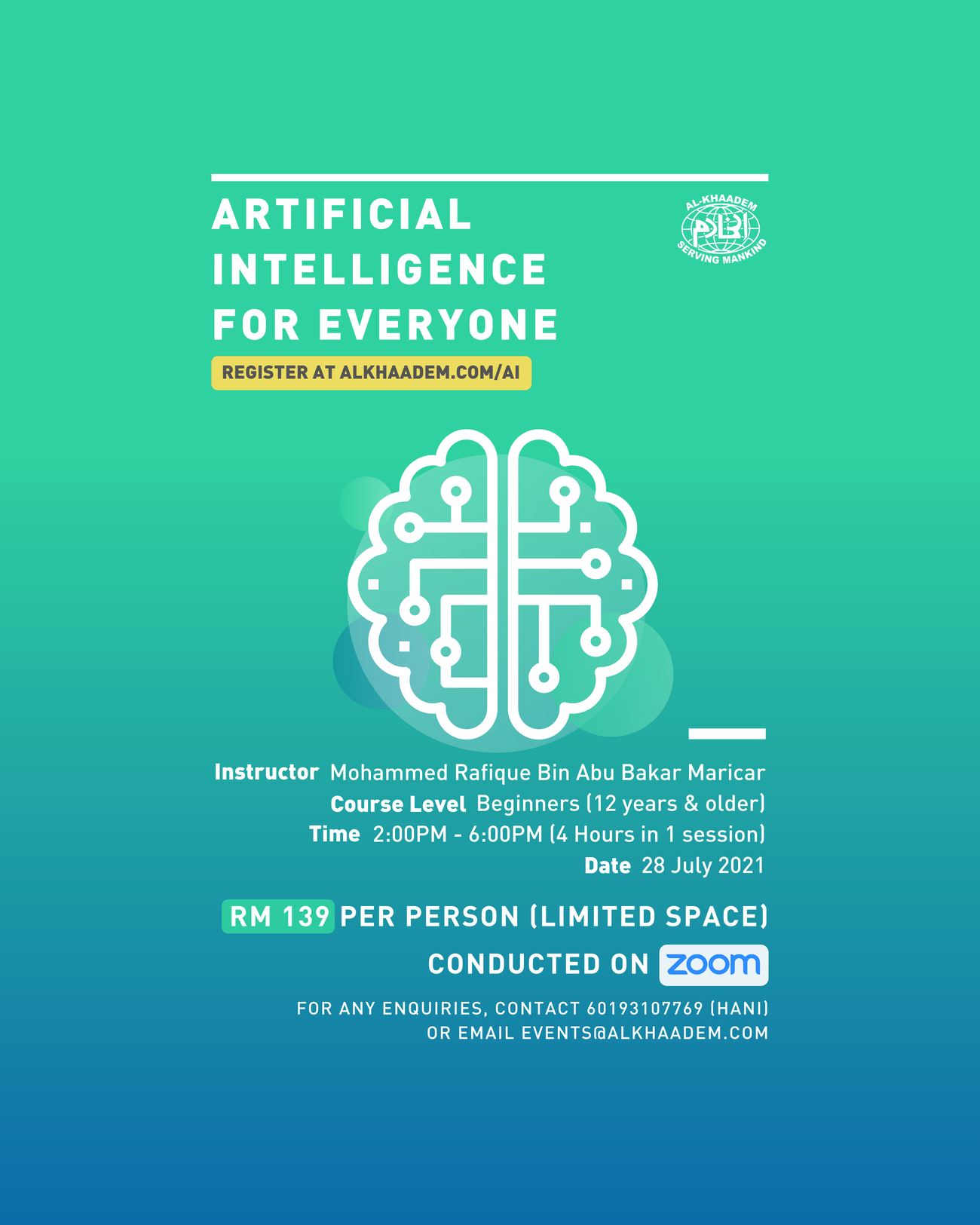 Artificial Intelligence For Everyone
The Artificial Intelligence for Everyone workshop provides introductory knowledge on understanding Artificial Intelligence. No prior knowledge is required for this course as the workshop is curated to introduce AI in a fun and interactive way for all ages (12 years & above) and for people from all walks of life.
In this workshop, participants will learn the working process of Machine Learning (ML) ,the interesting sub-field of Artificial Intelligence by watching helpful tutorials. With every tutorial, the participants will develop new skills and improve their understanding of ML. Participants will understand what Artificial Intelligence is, how machines learn and will create real-life projects by using machine learning models. The
workshop is carefully designed to target specific machine learning models and real-life applications without getting into boring or complex details.
This is an online workshop where participants will join a group of other learners online, working together and making lots of progress in fun and interactive sessions. The workshop also includes various practical sessions where participants will do coding projects themselves and learn how to apply AI in things such as picture recognition, facial recognition, AI-powered face filters, text recognition, and so much more!
The Zoom session will be monitored and recorded for safety purposes.
Who is it for?
This is an excellent choice for anyone who is interested in technology, coding, Artificial Intelligence (AI) and Machine Learning (ML).
No previous programming knowledge is required to attend this workshop. It is perfect for beginners who are curious to learn more about one of the hottest and dynamic tech topics around in the world.
DATE: 28 July 2021 (Wednesday)
VENUE: Online via Zoom
TIME: 2:00 PM – 6:00 PM
FEE: RM139/person
REGISTER NOW
Course Outline
INTRODUCTION – ARTIFICIAL INTELLIGENCE

What is Artificial Intelligence (AI)?
Uses of AI in the world today
Future of AI

MACHINE LEARNING

What is Machine Learning (ML) ?
Uses of Machine Learning
Future of Machine Learning
Practical Session : Training Models – Cat Vs Bat

FACIAL RECOGNITION

What is Facial Recognition?
Uses of Facial Recognition
Future of Racial Recognition
Practical Session : Training Models – Facial Recognition

NATURAL LANGUAGE PROCESSING

What is Natural Language Processing?
Uses of Natural Language Processing
Future of Natural Language Processing
Practical Session : Training Models – Natural Language Processing
---
Please contact us should you have further enquiries.
E-mail: events@alkhaadem.com
WhatsApp: +6019-3107769
---
Follow our social media for updates on our latest activities!







Support our work at bit.ly/infaq2021
Speaker
Mohammed Rafique Abu Bakar Maricar

Technopreneur

The course instructor is an entrepreneur with a focus in Artificial Intelligence, Data Science, web development, digital media design, and programming technologies. Mohammed Rafique Abu Bakar Maricar graduated with an honors degree in Information Systems and Management from LSE-University of
London and possesses knowledge in technology based education. Rafique has been training people in applications from all walks of life for more than 10 years which includes his lecturing years in a problem-based learning environment at a
tertiary institution in Singapore. He breaks the boredom of the classroom with his high energy impact teaching methodologies. He is also the founder of 3 small businesses in Singapore, Malaysia. He is currently pursuing a programme in Data Analysis with Boston Consulting Group (BCG)