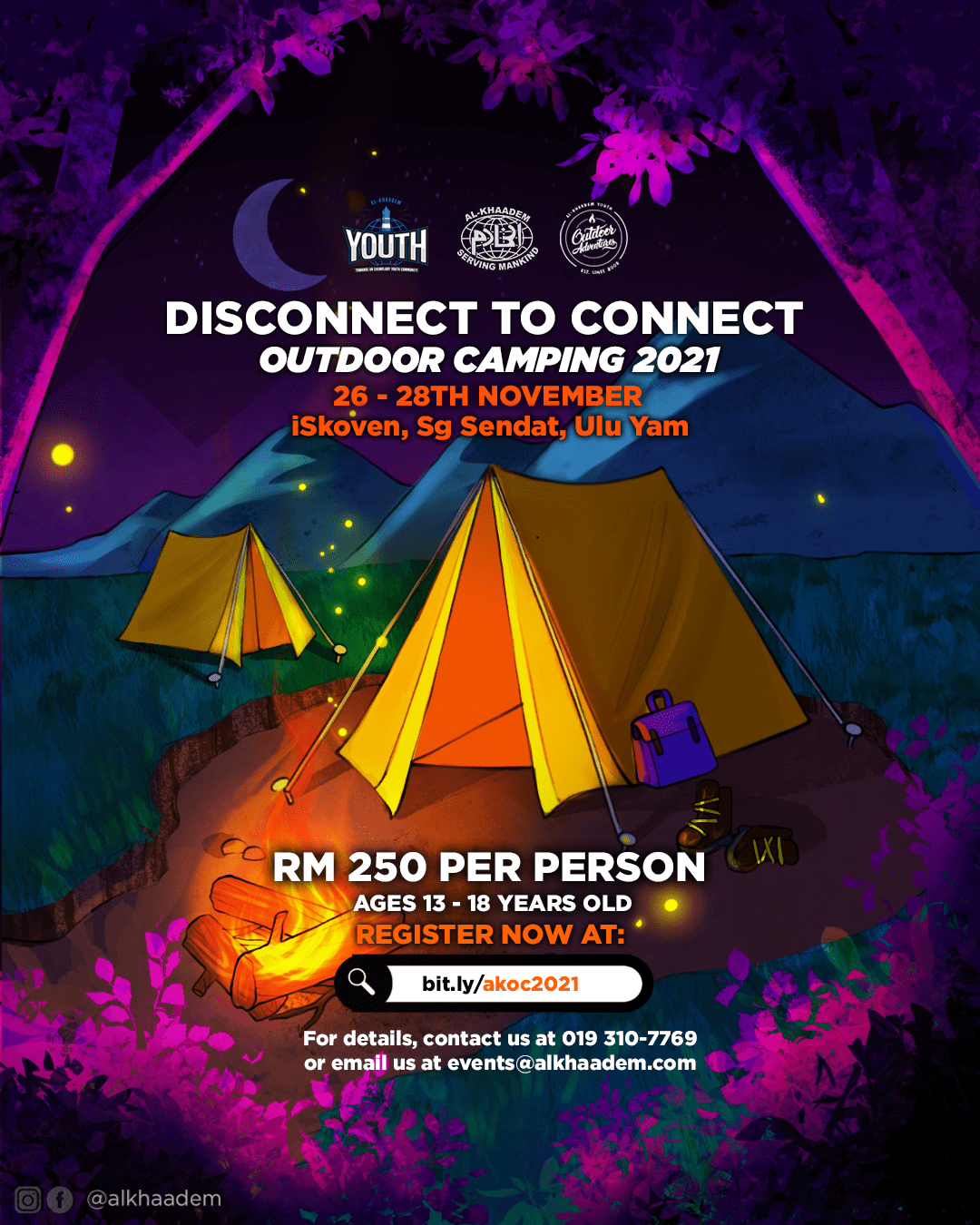 Outdoor Camping 2021 – DISCONNECT TO CONNECT
After months of isolation, there is nothing like a great camping experience to bring about connectivity. And we couldn't be more excited! This year, Al Khaadem Youth brings the community and families together in a slightly different way. But that's ok.
While balancing safety and doing our best to minimise the risk of being in-person, you can expect the usual classic camping delights from us. Inspiration from nature, motivation from hosts, and fun-filled activities that nurture you physically, mentally and spiritually.
Come in pairs for the best experience. The outdoor awaits you!
SPOTS ARE LIMITED.
Venue             : iSkoven, Sg Sendat, Ulu Langat
Date & Time  : 10.00 am/ 26 Nov to 2.30 pm/ 28th Nov, 2021
Fee                   : RM250 per person (RM500 for a pair)
Inclusive of :
3D2N Stays at iSkoven
Breakfast, Lunch & Dinner
Merchandise (T-shirt)
3A (Aqeeda, Adab, Akhlaq) Chill & Chat Sessions
Exclusive Bonfire-Tazkirah by Invited Speakers
Eye-Opening & Practical Learning Experience
Free & Easy River Water Fun
Life Skills Activities
Stargazing
Youth Talk Sessions
Some things to know: 
Please bring along your tent (small, fits 2)
Arrange your own transport
Upon leaving camp, please clean up your campsite
Showers and restrooms available at the campground
YOUR ADVENTURE BEGINS HERE
Speakers
Dato' Sheikh Hussain Yee

President Al-Khaadem

Seorang pakar ilmu hadis dari Universiti Madinah, Mohd Hussain Abdullah atau lebih terkenal sebagai Sheikh Hussain Yee adalah seorang da'ie terkemuka di Malaysia dan pentas antarabangsa. Beliau mengutamakan penyebaran sunnah Nabi dan penerapan nilai-nilai keharmonian sejagat Islam kepada umat Islam dan bukan Islam di seluruh dunia. Berbekalkan pengalaman hampir empat puluh tahun dalam bidang pengurusan, perkhidmatan perundingan dan strategi di badan-badan Islam antarabangsa, Sheikh amat mementingkan penanganan isu-isu keluarga

dan keharmonian sosial, terutamanya melalui perkhidmatan kaunseling keluarga dan rumahtangga serta pembangunan belia.

Pada masa ini, Sheikh Hussain Yee merupakan penasihat kepada beberapa organisasi Islamik di seluruh dunia. Antaranya Islamic Education and Research Academy (IERA) di United Kingdom (UK); As-Salaam Foundation di Jepun; Islamic Da'wah Council of the Phillipines-Halal, yang merupakan ahli dalam World Halal Council; Jawatankuasa Syura Negeri Pulau Pinang, Malaysia; dan juga Shariah Board di Japan Halal Foundation.

Di peringkat antarabangsa, Sheikh Hussain telah berkongsi pentas bersama pendakwah-pendakwah seperti Sheikh Assim Al-Hakeem, Sheikh Muhammad Salah, Sheikh Abdur-Raheem McCarthy, Yusuf Chambers dan Abdurraheem Green di pelbagai konvensyen: dari United Kingdom ke Australia, Norway ke Timur Tengah, dan yang terutama sekali, Asia Tenggara.

Beliau juga merupakan pengasas "Al-Khaadem Youth Camp", sebuah kem yang diadakan setiap tahun di Malaysia untuk melahirkan dan memperkasakan golongan belia sebagai sebuah generasi bakal pemimpin, berdasarkan nilai-nilai murni agama Islam. Keberkesanan kem ini telah mendapat perhatian dari komuniti antarabangsa, dan kem ini telah juga diadakan di Dubai, UAE; Tokyo, Japan dan Hong Kong, SAR.

Untuk sumbangan beliau di Malaysia, terutamanya di negeri Pulau Pinang, beliau telah dianugerahkan gelaran "Tokoh Maal Hijrah Penang 2017".

Ust Adli Mohd Saad

Pengarah Hal Ehwal Keagamaan

Ustaz Anwar Fakhri Ibrahim

Junior Dai'e

Ustaz Anwar Fakhri bin Ibrahim merupakan graduan lulusan Universiti Islam Imam Muhd Ibn Saud di Riyadh, Arab Saudi dalam bidang Usuluddin (Pengkhususan Al-Quran) di peringkat ijazah.

Berumur 28 tahun, beliau berasal dari Kajang, Selangor dan baru sahaja menyertai Da'wah Training Programme di bawah kendalian Pertubuhan Al-Khaadem setelah pulang ke tanah air.

Beliau juga aktif terlibat dalam aktiviti sukarelawan bersama Pertubuhan Al-Khaadem bagi mengisi cuti semester ketika beliau di tanah air.