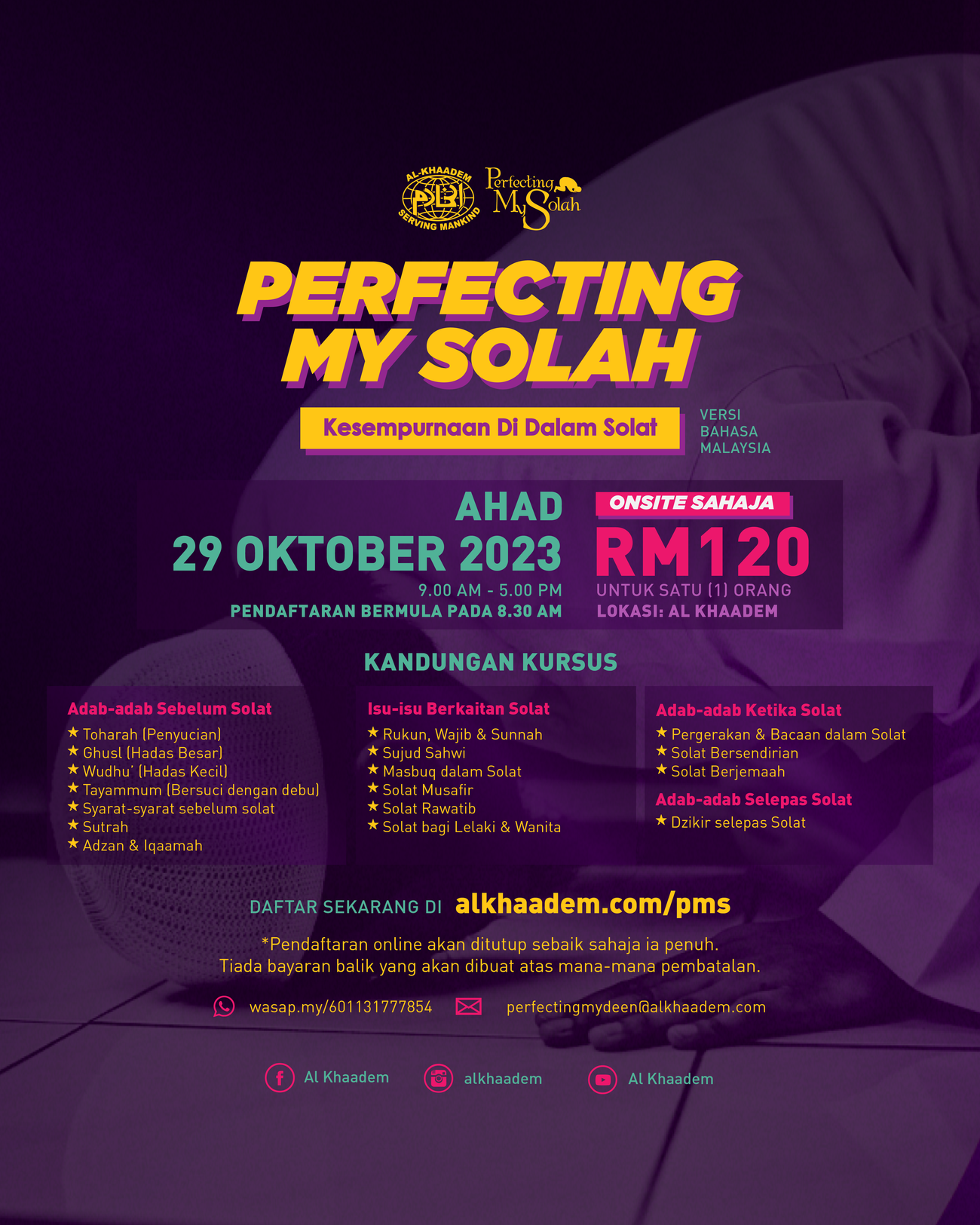 Perfecting My Solah (BM) #049
Perfecting My Solah is a one-day solah course whereby its main objective is to expose and guide the participants on the correct way of performing the prayer based on the sunnah of the Prophet (peace be upon him). The programme includes theoretical learning and demonstrations encompassing all basic issues related to solah.
DATE: 29 OCTOBER 2023 (SUNDAY)
VENUE: On-site at Al Khaadem
TIME: 9:00 AM – 5:00 PM
Onsite Option (RM120/person)
Includes:
– Latest Course Notes (Digital)
– PMS Book
– Al-Khaadem Bulletin
– Food (Morning Break & Lunch)
– Practical Session with Facilitators
REGISTER NOW
Speaker
Dato' Sheikh Hussain Yee

President Al-Khaadem

Seorang pakar ilmu hadis dari Universiti Madinah, Mohd Hussain Abdullah atau lebih terkenal sebagai Sheikh Hussain Yee adalah seorang da'ie terkemuka di Malaysia dan pentas antarabangsa. Beliau mengutamakan penyebaran sunnah Nabi dan penerapan nilai-nilai keharmonian sejagat Islam kepada umat Islam dan bukan Islam di seluruh dunia. Berbekalkan pengalaman hampir empat puluh tahun dalam bidang pengurusan, perkhidmatan perundingan dan strategi di badan-badan Islam antarabangsa, Sheikh amat mementingkan penanganan isu-isu keluarga

dan keharmonian sosial, terutamanya melalui perkhidmatan kaunseling keluarga dan rumahtangga serta pembangunan belia.

Pada masa ini, Sheikh Hussain Yee merupakan penasihat kepada beberapa organisasi Islamik di seluruh dunia. Antaranya Islamic Education and Research Academy (IERA) di United Kingdom (UK); As-Salaam Foundation di Jepun; Islamic Da'wah Council of the Phillipines-Halal, yang merupakan ahli dalam World Halal Council; Jawatankuasa Syura Negeri Pulau Pinang, Malaysia; dan juga Shariah Board di Japan Halal Foundation.

Di peringkat antarabangsa, Sheikh Hussain telah berkongsi pentas bersama pendakwah-pendakwah seperti Sheikh Assim Al-Hakeem, Sheikh Muhammad Salah, Sheikh Abdur-Raheem McCarthy, Yusuf Chambers dan Abdurraheem Green di pelbagai konvensyen: dari United Kingdom ke Australia, Norway ke Timur Tengah, dan yang terutama sekali, Asia Tenggara.

Beliau juga merupakan pengasas "Al-Khaadem Youth Camp", sebuah kem yang diadakan setiap tahun di Malaysia untuk melahirkan dan memperkasakan golongan belia sebagai sebuah generasi bakal pemimpin, berdasarkan nilai-nilai murni agama Islam. Keberkesanan kem ini telah mendapat perhatian dari komuniti antarabangsa, dan kem ini telah juga diadakan di Dubai, UAE; Tokyo, Japan dan Hong Kong, SAR.

Untuk sumbangan beliau di Malaysia, terutamanya di negeri Pulau Pinang, beliau telah dianugerahkan gelaran "Tokoh Maal Hijrah Penang 2017".